Yes the day finally arrived and it was extremely hectic for me. I had loads to do and was seriously concerned about getting time to come up with a shot. Anyway on a bus through Leeds I spotted this couple. Naturally her hair caught my eye.
I explained about World Photo Day and they were more than happy to have their photograph taken. Now I know it's nothing arty or spectacular, just daily life with ordinary people doing their thing. After all, that's what the whole thing was about.
Hope you enjoy it and if you want to see all of the pictures from 1 June 2005 from across the whole world click
here
.
Paul Indigo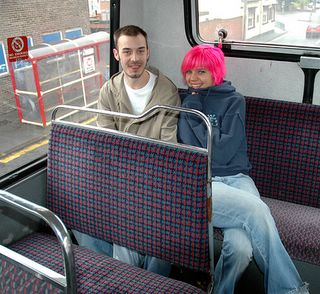 Couple on bus in Leeds this evening.